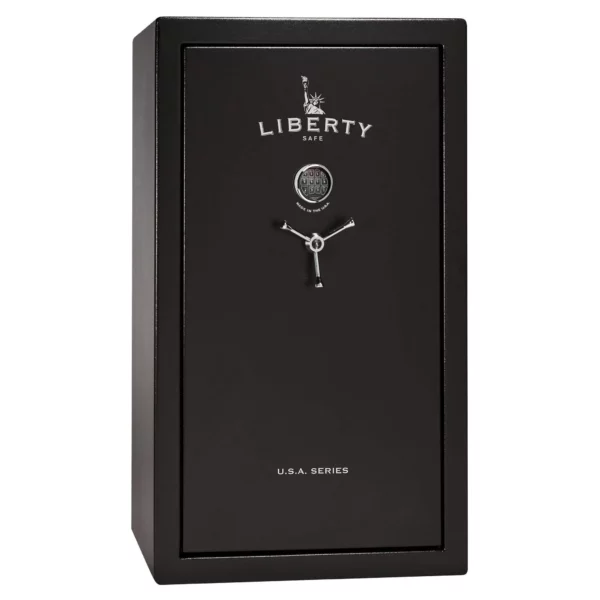 The Liberty Safe company of Payson, Utah is a big player in the US gun safe industry. And right now, they are in hot water [we're talkin' Bud Light levels of hot water] for allegedly giving out customer safe codes to the FBI without a warrant or subpoena issued to the company itself. This story exploded all over social media over the past week when it was discovered that the FBI raided a man's home in Arkansas related to his alleged participation in the Jan. 6th protests at the US Capitol back in 2020. Liberty Safe allegedly gave the FBI the safe combo without requiring a warrant or subpoena be issued to the company, and what's worse… they admitted in writing that it is their policy to hand out safe codes to law enforcement when they are serving warrants on 3rd parties, including Liberty Safe customers.
"Our company protocol is to provide access codes to law enforcement if a warrant grants them access to a property," the company wrote. "After receiving the request, we received proof of the valid warrant, and only then did we provide them with an access code. Liberty Safe had no knowledge of any of the details surrounding the investigation at the time."

pic.twitter.com/UD6gxErzHV

— Liberty Safe (@libertysafeinc) September 6, 2023
If that is the case, Liberty Safe seems unwilling to live up to their company branding. We wonder if they are aware that a warrant on another party does not constitute a warrant on their company. They could simply deny such "requests" pending a formal subpoena signed by a judge. But of course, that would require a company that has some principles, some backbone, and understands the real meaning of the word "Liberty".  And considering the recent scandals, allegations of corruption, and partisan witch hunts the FBI has been accused of [even by it's own employee whistleblowers], Liberty Safe would have been well-advised to be a bit more strict with it's customers' most sensitive information. As a result, there are now growing calls for a full-scale boycott, as their "policy" becomes known to all.
Just for good measure, we contacted Liberty Safe on 9/7/2023 to inquire about the process for changing safe combo's on their mechanical locks. They told us that it can only be done by a certified locksmith [this is not true, however DIY will void your warranty]. We also asked if they can supply a proper combination change tool for a mechanical lock on one of their safes. They refused, and again told us to call a locksmith. We asked them to at least help identify the type of tool needed for a specific mechanical dial lock. Unfortunately, the ill-informed rep could not even correctly identify the manufacturer of the lock, and claimed it was a "Liberty Lock". This was again false. Liberty doesn't actually manufacture the locks themselves, they install pre-fabricated locks made by 3rd parties such as Sargent & Greenleaf. The Liberty Safe rep also tried to direct us to submit a key/combo recovery form, and didn't seem to know the difference between a "key" and a "combo change tool". And ironically, the rep also informed us that key/combo recovery requests are indefinitely frozen/halted at this time… which would defeat the purpose of submitting such a form anyway. Overall, the discussion with Liberty customer service was deeply revealing of the broader scope of this problem. 
So this begs the question, what do they mean by the word "Liberty" anyway? Does a company's willingness to serve up it's customers so readily to "the man", without any semblance of resistance… even so much as expecting "the man" to provide the legally-required warrant or subpoena for such "requests"… does that demonstrate the company's belief in actual, real, bona fide liberty?
You decide.
_________________________________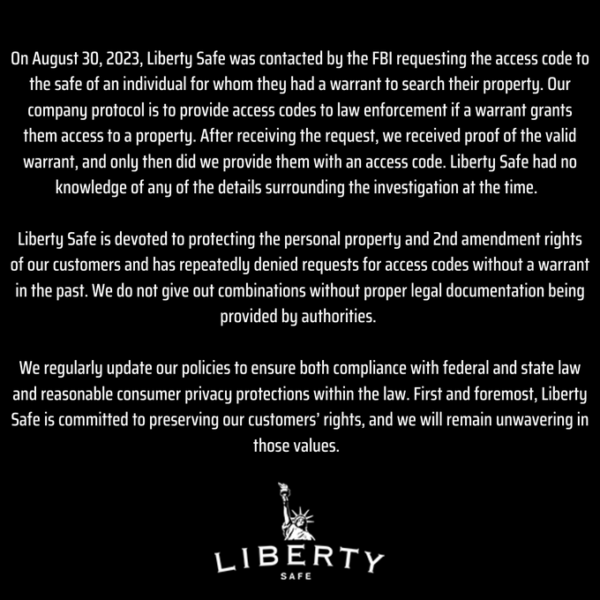 Report: Liberty Safe Provided Safe Code to FBI Without Warrant or Subpoena